Because, I document the news every single day and am aware of the fact that a week does not pass without settlers setting fire to Palestinian schools, homes and agricultural land it's almost impossible for me not make "political hay" out of the fact that while the remaining 22% of historic Palestine burns to the ground, nobody cares, except for Palestinians.
Settlers torch olive trees south of Nablus
NABLUS (Ma'an) -- Residents of illegal settlements in the Nablus district set fire to olive trees on Tuesday, a Palestinian Authority official said.  Ghassan Doughlas, who holds the settlements file for the northern West Bank, said settlers from Yizhar settlement torched trees on land belonging to Madama and Asira villages south of Nablus.
http://www.maannews.net/eng/ViewDetails.aspx?ID=337538
IOF troops detain 7 Palestinians, settlers set fire to cultivated land
Israeli occupation forces (IOF) rounded up seven Palestinians in various West Bank areas at dawn Wednesday including MP Nayef Al-Rajoub in Al-Khalil and two brothers in Nablus.
http://www.palestine-info.co.uk/En/default.aspx?xyz=U6Qq7k
More questions about the settler attack on church in Jerusalem
A group of extremist Israeli settlers attacked and set fire to an old Christian church in Jerusalem (Al Quds) on Friday night, 30th October.
The church itself was built more than a hundred years ago and has housed Christian worshippers in the Holy city of Al Quds for decades.  For the leaders of the Church, Friday night's attack was indicative of the slow but steady destruction of Al Quds itself; once a city of diverse religious beliefs and practices. Zakaria Al-Mashriqi, one of these Leaders of the Church spoke of the attack as a "sinful crime" and stated in a press conference that the destruction of the Church was in line with the attempts by the Israeli army, the settler force and the Israeli government to expel Palestinians from the Holy city.
http://www.middleeastmonitor.org.uk/articles/middle-east/1709-
more-questions-about-the-settler-attack-on-church-in-jerusalem
Palestinians say settlers torched their olive trees (AFP)
SALEM, Palestinian Territories – Palestinians said that Israeli settlers in the occupied West Bank burned about 200 of their olive trees on Sunday and also torched surrounding grazing land. Settlers denied the allegations. The alleged attackers were seen heading in the direction of the nearby Elon Moreh settlement after setting fire to the trees on land owned by the Palestinian village of Salem, village council spokesman Adli Ishtayeh said.
http://news.yahoo.com/s/afp/20101114/wl_mideast_afp/israelpalestiniansconflictsettlerolives
Settlers Destroy Trees in Surif
Like Palestinians for centuries before them, Shaban Atiya Al-Hur and Ahmed Atiya Al-Hur have farmed the Al-Hajahat area of Surif. This morning both men attended their land to find that settlers from the nearby Bat Ayn settlement had destroyed 85 of their olive and fig trees. The trees were destroyed by deliberately lit fires and amount to around half the trees in the area. The fires were started at approximately 9:30am and lasted for around half an hour.
http://palestinesolidarityproject.org/2010/11/15/settlers-destroy-trees-in-surif/
Settlers Burn Olive Trees Near Nablus
A group of extremist Jewish settlers torched, on Sunday, at least 200 Palestinian olive trees that belong to residents of Salem village, near the northern West Bank city of Nablus, and also torched a number of nearby farms.
http://www.imemc.org/article/59906
Jewish settlers set fire to girls school while expanding Rahalim settlement
As Jewish settlers spent Sunday morning digging up land in south Nablus to expand settlement, Nablus lawmaker Yasser Mansur warned expansion of illegal Jewish settlements was on the rise.
http://www.palestine-info.co.uk/En/default.aspx?xyz=U6Q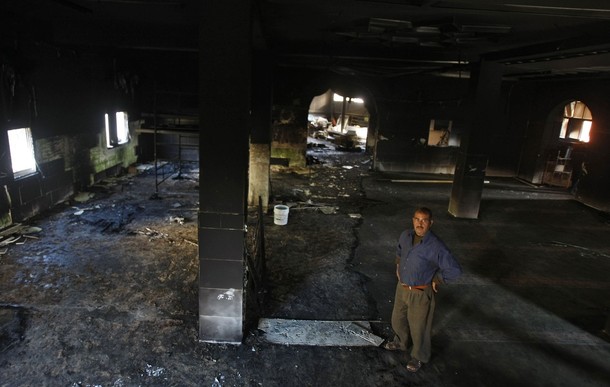 Another Settler Arson of Salem's Olive Trees, Assaf Oron
Uri Pinkerfeld, Villages Group coordinator for Salem and Deir El Hattab, reports:  On Sunday November 14 2010, around 12 noon, smoke was seen rising from the olive orchards on the slopes of Jabal Kabeer above Salem. Several farmers went to locate the fire's location, north of the settler bypass road, not far from the cistern. Two local teenagers who were shepherding nearby hurried to the location as well, and tried to put out the fire. They reported having seen two settlers run off towards the
"Skali Farm"
settler outpost. The farmers immediaterly called firefighters from Nablus and the officers of the District Coordination Office. The military allowed the fire truck to get to the orchards, but the road was too steep. Farmers eventually managed to put out the fire manually.
http://theonlydemocracy.org/2010/11/another-settler-arson-of-salems-olive-trees/
Residents say settlers behind torched grove
HEBRON (Ma'an) -- Fires ravaged agricultural lands in the southern West Bank near Hebron on Monday afternoon, destroying 15 dunums of fruit grove and greenhouses.  Beit Ummar farmers, whose lands were affected, said they believed setters from the nearby Bat Ayin colony were behind the arson, which destroyed dozens of fig, olive and pine trees.
http://www.maannews.net/eng/ViewDetails.aspx?ID=333899
Settlers set Saffa ablaze, 3 Palestinian youth arrested
17 Nov - 
Palestine Solidarity Project
 - Last night [Tuesday] settlers from the Bat Ayn settlement set fire to 70 olive trees in the Saffa region of Beit Ommar. The trees belonged to the Thalji Aady family, who have been subject to frequent settler violence and military harassment. The fire was lit around 9:30 pm, and burned for 3 hours before fire trucks from the village were able to extinguish the flames. At 11:00 pm 3 military jeeps arrived and attempted to prevent villagers from extinguishing the fire, arresting 3 Palestinian youth in the process.
http://palsolidarity.org/2010/11/15554/
Settlers blamed for fire near Nablus
Israeli settlers set fire to Palestinian farmland between the West Bank cities of Nablus and Qalqiliya on Tuesday, officials said. Ghassan Dughlus, the Palestinian Authority official monitoring settler activity in the northern West Bank, said Israelis from the settlement of Givat Gilad set fires in the village ofJit. He said about 100 trees were burned in the blaze. Mayor Nasser As-Sida told Ma'an that Israeli soldiers bared villagers from going to the land in order to put out the fire.
http://www.maannews.net/eng/ViewDetails.aspx?ID=333963
Settlers burn 10 dunums of farmlands south of Nablus
NABLUS, (PIC)-- Israeli settlers from the Itamar settlement in south Nablus burned on Friday at least ten dunums of land cultivated with olive trees in the Bayada region northeast of the Awarta village ... Israeli occupation soldiers stopped Palestinians and emergency officials from controlling the fire.
http://www.palestine-info.co.uk/En/default.aspx
10 dunums of olive trees in Awarta burned by settlers
Oct 1, 2010-- two settlers of Itimar settlement burned, approximately 10 dunums of an olive grove. The fires were North East of Awarta village, in the South Nablus district.
http://stopthewall.org/latestnews/2369.shtml
Settlers torch farmlands near Nablus
NABLUS (Ma'an) -- Residents of Huwwara village south of Nablus said Thursday that settlers set dozens of dunums of farm lands on fire, destroying crops.  PA official responsible for settlement-observation in the northern West Bank Ghassan Doughlas said the fields were in the At-Tira area of Huwwara village, and had destroyed some crops.  "Lighting fields on fire is a provocative act perpetrated by settlers seeking bury the peace process," the official said, calling on representatives of the Middle East Quartet to ensure that Israel took responsibility for the actions of its settlers.
http://www.maannews.net/eng/ViewDetails.aspx?ID=321776
Settlers caught on camera torching cars
Three Israeli settlers were caught on security cameras setting fire to two Palestinian cars in the village of Qusra in the northern Nablus district overnight Saturday ... The footage captured by Hamdan's home security surveillance also show settlers writing "death to you" on his doorstep after the settlers drove up to his home in a Peugeot, fleeing the scene after the arson.
http://www.maannews.net/eng/ViewDetails.aspx?ID=324602
Settlers torch olive groves in northern West Bank
Firefighters were called to a Qalqiliya village on Friday after settlers torched Palestinian olive groves, a civil defense spokesman said. Mohammad Amer said residents of the illegal Gevat Gilad outpost prevented fire engines from reaching Far'ata village. He added that tens of thousands of shekels of damage was caused in part due to the delay.
http://www.maannews.net/eng/ViewDetails.aspx?ID=324432
Israel settlers start fires amid West Bank harvest (AFP)
FARATA'A, Palestinian Territories (AFP) – Thick black smoke billows from the olive grove under the gaze of Israeli soldiers as Palestinian farmers use branches to try to beat out the fires lit by Jewish settlers. It's olive harvest time in the occupied West Bank. The firebombers swooped down from Havat Gilad, a wildcat Jewish settlement unauthorised even by the Israeli government. Encircled by barbed wire, the makeshift dwellings glower down on the surrounding Palestinian olive plantations from a hilltop in the northern West Bank.
http://news.yahoo.com/s/afp/20101016/wl_mideast_afp/
israelpalestiniansconflictfarmunrest_20101016101415
Settlers torch crops in Bethlehem village
BETHLEHEM (Ma'an) -- Israeli settlers set fire to Palestinian crops on farmland in the Husan village in the southern West Bank district of Bethlehem, burning vast areas of olive groves before firefighters were able to control the blaze, locals said.  Locals said Israeli residents of the nearby illegal Betar Illit settlement obstructed Palestinian firefighters from accessing the site of the blaze, causing the fire to spread extensively.  A local village council source said grape and olive groves were damaged in the arson, largely in the Ein At-Taqa area, adding that bare-footed farmers were unable to extinguish the fire and that several sustained light burns as a result.
http://www.maannews.net/eng/ViewDetails.aspx?ID=325571
Settlers torch, vandalize Nablus school
NABLUS (Ma'an) -- A group of Israeli settlers broke into an all girls' school in the Nablus district village of As-Sawiya on Wednesday, setting fire to its storehouse containing furniture and unused sports equipment, the headmistress said.  Maysoon Sawalha said the school's cleaning woman arrived to find the lock on the main door broken as well as that of the storehouse, with all its contents torched.
http://www.maannews.net/eng/ViewDetails.aspx?ID=325796
Palestinian school set on fire, vandalized with 'regards from the hills' graffiti
Incident appears to be the latest action in the 'price tag' campaign of extremist settlers.
http://www.haaretz.com/news/diplomacy-defense/
palestinian-school-set-on-fire-vandalized-with-regards-from-the-hills-graffiti-1.320228
Report from beyond the Green Line: Al Ma`sara celebrates four years of joint struggle and houses set on fire in Nabi Saleh
The unarmed and largely non-violent protests against the occupation returned to the West Bank on Friday. From Al Ma'asara to Sheikh Jarrah to Ni'ilin, Palestinians joined by Israeli and international supporters demonstrated against the occupation and for joint struggle against Israeli repression of non-violence in Palestine. The following is a collection of reports from certain villages complete with photos and video.
http://josephdana.com/2010/10/report-from-beyond-the-green-line-al-ma%E2%80%99a
sara-celebrates-four-years-of-joint-struggle-and-houses-set-on-fire-from-tear-gas-in-nabi-saleh/
Israeli hasbara efforts: 
Suspicion: Anarchists torched field near settlement
Security forces detain 12 people, including seven foreigners for allegedly setting fire to field near Bat Ayin; 12 acres destroyed ... The grove has been set on fire three times over the past few weeks by anarchists. 
http://www.ynetnews.com/articles/0,7340,L-3986648,00.html
Truth:
Watch: Footage contradicts arson allegations
BETHLEHEM (Ma'an) -- International solidarity activists hit back this week at allegations broadcast in Israeli media that they and Palestinian farmers set fire to "state land" in the occupied West Bank.Ynet news and Arutz Sheva, two Israeli media outlets,
reported
Sunday that "leftists" and "foreign anarchists" were caught in an arson attempt near an illegal settlement between Bethlehem and Hebron.
http://www.maannews.net/eng/ViewDetails.aspx?ID=333775
Journalists held after covering Safa village arson
Hebron – PNN - Israeli forces held a group of journalists who tried to cover Wednesday's settler assaults in the village of Safa, near Hebron. Muhammad Ayad Awad, media spokesman for the Palestine Solidarity Project, said that troops detained a Palestine Television crew including Fada Nasir and Mahmoud Khilaf, as well as a group of solidarity activists. They were forbidden from taking pictures of the fire started in Safa by Israeli settlers from nearby Bat Ayin. The fire reportedly destroyed more than ten acres of olive and almond trees.According to Awad, the military's explanation was that the burning acreage was a "closed military zone."
http://english.pnn.ps/index.php?option=com_content&task=view&id=9163&Itemid=64